The Canimex Group is proud to announce that its Mechanical and Electrical Division is now certified ISO 9001:2015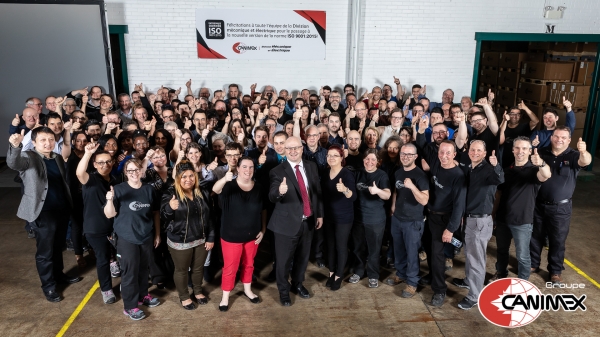 Drummondville, May 9, 2018 – For over nine years, the Canimex Group's Mechanical and Electrical division has applied a quality management system (QMS) certified according to ISO 9001: 2008 by BSI Canada. Today, we are extremely proud to announce that we have successfully completed the transition to the new version of ISO 9001:2015.
The certification, renewed by BSI Canada according to this new and more demanding version of the standard, is recognition of the permanent commitment of the Canimex Group's Mechanical and Electrical Division to the continuous improvement of its processes. It is the result of a voluntary approach by the Division's management, seeking to:
Prove its ability to constantly provide products and services conforming to customer requirements;
Increase customer satisfaction by applying improvement processes;
Meet the industry's legal and regulatory requirements.
"Our priority has always been to ensure that our products and services meet the highest standards and the needs of our customers. Our quality management system certified according to ISO 9001:2015, provides us with a solid foundation to face our future growth ", explains Jean Rochon, General Manager of the Mechanical and Electrical Division is glad to state. "I wish to thank and congratulate all our employees, because this certification is due to the excellence of their work and their collective engagement. Together, we will pursue our efforts to maintain the highest quality level and achieve our objective of 100% customer satisfaction," he adds.
An original unit of the Canimex Group, the Mechanical Division was established in 1969. An electrical specialty was added in 2008. The Division markets products and solutions in mechanical and electrical power transmission for original equipment manufacturers. The wide range of products includes bearings, gearboxes, electric drivce axles and many other components that meet the customers' specific needs.
Now certified with the new ISO 9001:2015 standard, the Mechanical and Electrical Division has an additional advantage to remain a leader in its sector. Its customers continue to benefit from very high-quality products and services that meet the industry's legal and regulatory requirements.
Valid for three years, this international certification represents an essential strategic tool so that the Canimex Group's Mechanical and Electrical Division can continue to innovate and grow, thanks to improved processes and quality controls.
-30-
About the Canimex Group
The Canimex Group designs, fabricates, imports, and exports mechanical, electrical, hydraulic and electronic components, as well as products for access systems and garage doors. It also offers services in aluminium die casting, tooling and precision machining, sheet metal work, mechanically welded parts, and mould and die making. The Group also ensures the design, fabrication and worldwide distribution of Covana automated solutions to cover spas. Over 700 people contribute to the company's success. Founded in 1969, the Canimex Group extends its operations to over 70 countries.