Mr. Roger Dubois, President Of Canimex Group, Receives An Honorary Diploma From Cégep De Drummondville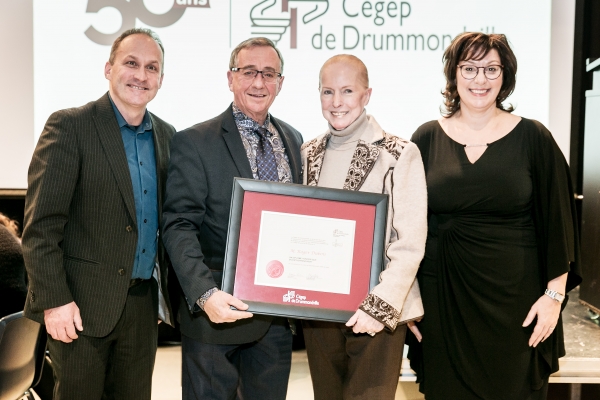 On December 5, 2017, during a professions evening held at Cégep de Drummondville, Mr. Roger Dubois, President of Canimex Group, was given an entrepreneurship honorary diploma. The evening aimed to highlight talented people who help regional entrepreneurship shine and to offer the students in attendance the opportunity to learn more on the challenges of the labour market.
It was before more than 200 guests that the Cegep's students and professors highlighted the entrepreneurial talent of Mr. Dubois, who founded Canimex Group in 1969. "An honorary diploma is one of the highest recognitions a college institution can bestow upon individuals who have made an outstanding contribution to their area of activity. Today, I have the honour and great pleasure to mark the exceptional journey of one of our own businessmen, who built a flagship company in Drummondville's manufacturing landscape, a pride and joy in Quebec. It is a source of inspiration for our students with a management profile," explains Ms. Brigitte Bourdages, General Manager of Cégep de Drummondville.
"I would like to thank the students, Ms. Brigitte Bourdages and her teaching staff for this recognition. The success of our youth depends on innovative training programs such as those offered by Cégep de Drummondville, and on the endless commitment and involvement of the managing and teaching staff. My biggest wish now is to contribute to the success of young graduates by offering them a job at the height of their ambitions. Canimex Group is known for recruiting the best talent, allowing them to benefit from training experiences, helping them grow professionally and having them actively take part in the development of Canimex Group. I therefore wish all future entrepreneurs lots of success, and invite them to come discover Canimex Group, employer of choice, after earning their diploma," said Mr. Dubois.